The Colombo International Maritime Conference (CIMC) which was held for the very first time in 2015, under the guidance of Minister Arjuna Ranatunga, was considered as one of the top maritime conferences held in the Indian subcontinent. Minister Ranatunga initiated the idea in 2015 and got cabinet approval to declare a Sri Lanka maritime week, on the last week of September to commemorate the International Maritime Day and UN observance annually.
The cabinet of ministers has given the consent to continue the CIMC as an annual event to promote and to develop high level discussion of the maritime economy of Sri Lanka and the region. The Minister will chair the event in 2016 in his capacity as Minister of Ports and Shipping.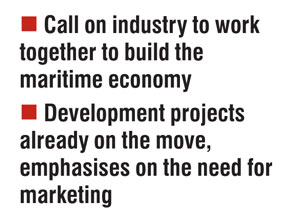 Briefing the organising committee last week along with Ministry Secretary L.P Jayampathy and Director General Merchant Shipping, the minister recognised the fact that, given the global conditions and the challenges faced by the shipping and logistics industry it is important to have cross boarder dialogue and share global ideas and views through the CIMC 2016. He also emphasised the importance of the industry working together and was happy that all sectors have joined the CIMC and given a needed boost to the sector and the country.
He further explained the importance of promoting, marketing and creating awareness of the Sri Lankan maritime industry as Sri Lanka has the capability to be one of the most efficient hubs for logistics and shipping. The Government has already embarked on development projects and many investors have come forward with projects for the shipping industry he said.
The CIMC will be held in Colombo from 21-23 September, where the South Asia Maritime Forum, emerging markets in Africa and Myanmar, technology innovations and logistics will be among many topics that would be discussed with global maritime experts. Last year nearly 500 international and local delegates attended the three-day mega event.
The minister expressed confidence that CIMC 2016 will be an even bigger event than 2015 as over the last six months momentum has built up and global investors want to be part of Sri Lanka's maritime industry. He said that while there were short term challenges, the new administration has put new plans to develop port of Colombo as well as the Hambantota and Trincomalee ports. Minster reiterated that it a good time for us to be marketing as we can offer new opportunities to companies who are looking to invest and expand in the maritime and logistics sector.